Explosive Striking (Internal) II
There are comparable explosive kicks that match the explosive striking hits that are used exclusively by Kuntaoists engaged in mortal combat. Visualization and sensualization exercises combined with advanced spiritual/meditation are needed.
We are not going to elaborate on the specifics of this training because you need a perfect execution and perfect practice. Nothing less than a perfection of intention and technique will give consistency.
10 Explosive Striking Methods - Mind/Spirit Needed
Cannon Kicking
Whip Kicking
Body-Lock Kicking
Cat-Jump Kicking
Poison Knife Kicking
Crush Kicking
Hydro-Shock Kicking
Nervous System Shock-Kicking
Touch Kicking
Invisible Kicking
The first way Master Reeders taught me to explosively kick was to "scratch the eyeball of an enemy with your big toenail".

If you are interested in studying this system of striking, or if you want more information, please email us.

Guy Savelli

savelli@worldkungfu.com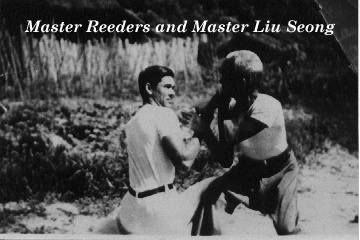 ---
Copyright © 1998 by Guy L. Savelli. ALL RIGHTS RESERVED.
Except as otherwise provided by law, this writing may not be produced in whole or in part, in any manner.